Family-Owned, Established by a Third Generation of Electricians, Engineers & Business Leaders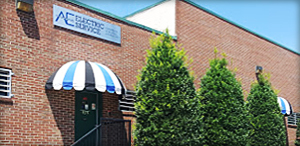 Our Leadership Team has learned the electrical industry from the ground up and take great pride in our reliable and efficient service technicians. We work hand in hand with owners and general contractors to establish project scope and cost.
AE Electric Service is a fully licensed Electrical Contractor based out of Nashville, Tennessee. We specialize in Commercial and Industrial construction, service and preventative maintenance. Our mission is to achieve excellence in all we do and, above all, provide customer satisfaction.
---
AE Electrical Service
New Construction: You'll receive the most economical design & optimum electrical performance when AE Electric Service participates from concept to completion.

Industrial Electrical Contractors: Services ranging from site lighting & emergency power to infrared testing/imaging for larger-scale facilities, warehouses & industrial plants.

Commercial Electrical Contractors: AE Electric works mindfully with business owners & general contractors to establish project scope & cost with a strong focus on customer satisfaction.

Preventative Maintenance: Electrical Preventive Maintenance can prevent 2/3 of the failures of electrical system components & can prevent over 1/2 of electrical fires.

Emergency Response: Our experienced staff of journeyman electricians offers 24-hour immediate response through our Emergency Dispatch System.
Please give us a call & let us be your go-to electrical service company when you need a quality solution 615.255.5593
---